Biowin recently sponsored 9News Queensland sports presenter and reporter Michael Atkinson during his 250km trek across the Simpson Desert.
Biowin are both proud and humbled to have had the opportunity to sponsor Michael as he battled the physically and mentally demanding nine-day trek.
Biowin was encouraged to support of Michael largely due to his goal and ambition of raising money and awareness for Australian charity Youngcare who do wonderful things Australian wide.
Michael originally aimed at raising $35,000 prior to embarking but now has tallied a whopping $60,875 for Youngcare.
Youngcare, being a not-for-profit organisation push for change for young people with high care needs and hope to create a future where every young person has the freedom and choice to live the lives we all deserve.
Michael had a desire to take part in this trek in order to make a profound difference for the people who Youngcare supports. This encompassed not only monetary assistance but including information and support improvements via Youngcare Connect services, the building of age-appropriate accommodation for those supported as well as undertaking world first research to better understand the needs for those affected.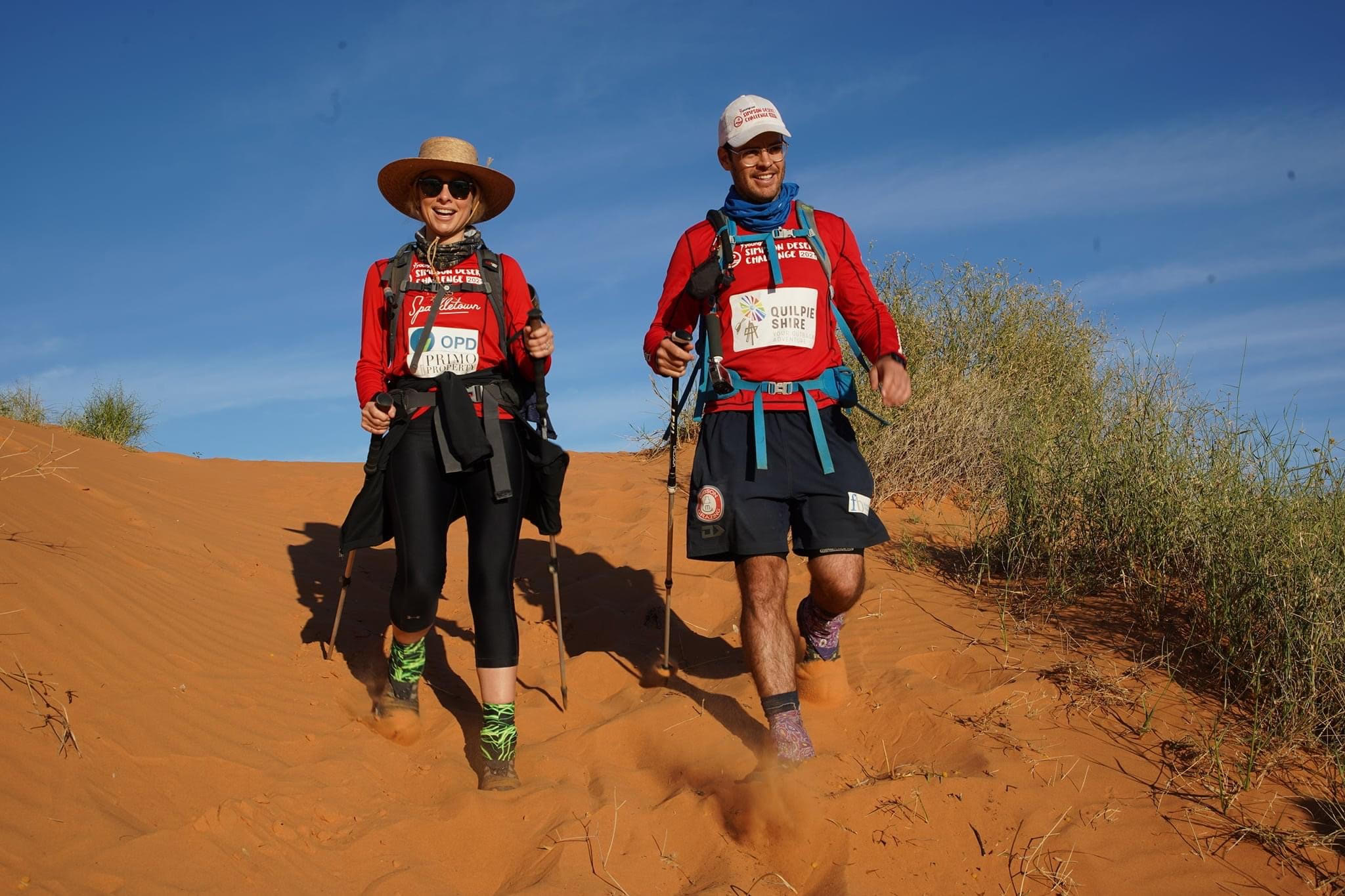 In regards to the trek itself, Michael said prior to its beginning that he was extremely daunted at what he had ahead of him.
"I'd never been involved in any serious bush expeditions previously, so nine days in the Simpson Desert was always going to challenge me."
In order to assist his energy, recovery, sleep, and pain management, Biowin provided Michael with revolutionary neurohaptic technology products from our specialist sock range as well as a pack of REM patches.
Michael discovered the first-hand benefits of both products, recovering not only from the effects of the harsh day conditions in which he trekked but also the freezing night conditions where he was protected by only a sleeping bag and tent.
"I was the only member of our group who didn't suffer from blisters on the trip. The socks were extremely comfortable, and I believe the tactile NHT pattern allowed my mind to focus on the job at hand during those long afternoons in the desert - in blistering heat and dusty and undulating terrain.
"At night I wore a Biowin REM patch and got a great night's sleep, which set me up for the 30kms I would have to walk the next day."
Upon the conclusion of his journey, Michael said he is now using the Biowin socks and REM patches on a day-to-day basis in order to improve his neural wellness, sleep, energy, and recovery.
"Now I'm back home I wear the socks and patches all the time."
Michael stands by the results he received from the neurohaptic technology products and called for any athlete to see the effects for themselves.
"I would suggest that any runner taking on challenging terrain in Australia should have a close look at all Biowin's socks and patches. They certainly helped me."
We congratulate Michael on his efforts on the trek and everything he has done for Youngcare and we look forward to the potential of working with him again in the future.