Biowin products made a stunning Australian debut when the neurohaptic range was officially launched at the Australian Pharmacy Professionals (APP) Conference and Trade Exhibition on Queensland's Gold Coast last month.
The APP annual conference attracted over 6,000 pharmacy owners, pharmacy managers, pharmacists, intern pharmacists, retail managers, pharmacy assistants, students and pharmacy industry suppliers, who were keen to learn more about Biowin's unique science and products.
Australian community pharmacy's premier event was chosen as the ideal platform to showcase Biowin's products to the Australian market for the first time.
Jay Dhaliwal, the Canadian-based Founder and CEO, who developed the neurohaptic technology embedded in all Biowin products, presented to the APP conference via zoom and told the audience that Australians would love and benefit from Biowin's products.
"Neurotech for wellness is a rapidly growing global industry and following our successes in North America and Europe, we are entering the Asia-Pacific market with high expectations.
"Being able to interact with the key pharmacy professionals in Australia at the APP conference allowed Biowin to communicate the benefits of our technology to trusted heath experts who directly influence Australian consumers each day", Mr Dhaliwal added.
Biowin products combine the best of modern technology with decades of research in neurohaptic science to help people achieve their wellness goals, drug-free and without invasive treatments.
Utilising a special tactile pattern that activates neuroreceptors on parts of the body to reduce aches and pains, Biowin's range of socks and patches are designed to improve balance, mobility, and pain management – to keep you feeling your best so you can achieve more every day.
Throughout the APP conference, Biowin Asia-Pacific Managing Director Muthuraj Guruswamy and his Biowin team showcased the technology and conducted workshops with industry professionals keen to understand more and to test Biowin products first-hand.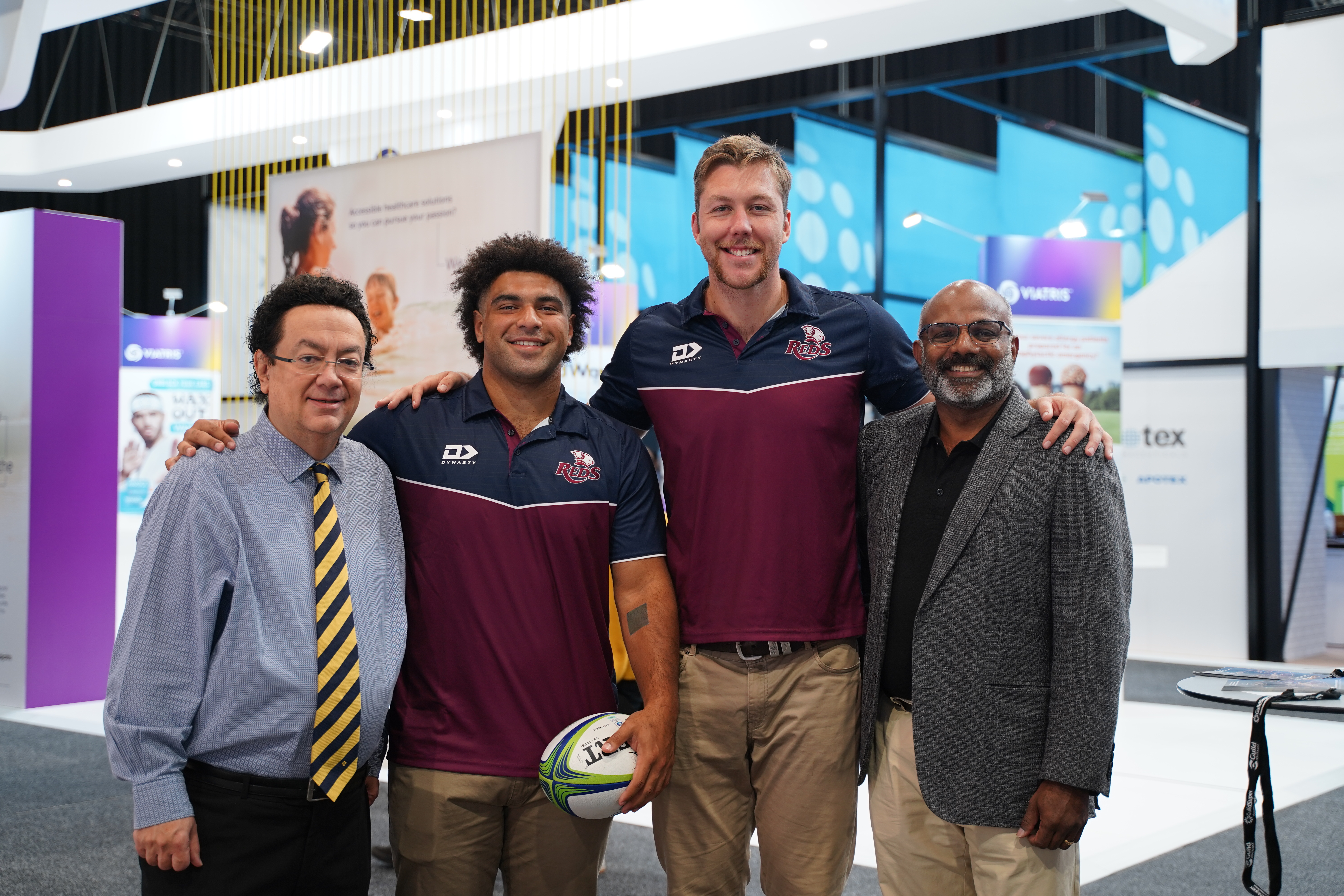 Mr Guruswamy was joined by key members of the Super Rugby Au Champion Queensland Reds squad, Angus Blyth and Zane Nongorr (pictured), and explained the Biowin launch at the APP conference had been a triumph.
"Following Jay's presentation to the assembled professional and industry executives we enjoyed an avalanche of interest in our non-invasive neurohaptic range. It was great to be able to hand APP delegates our products and educate them on the benefits, face-to-face." he said.
On the final day of the conference, Biowin ran a competition for APP delegates to win a signed official Super Rugby used by the championships-winning Reds during this year's competition and signed by Reds' captain James O'Connor. Cheryl Brown, Senior Retail Buyer for the Star Pharmacy Group, was the lucky winner, with runners up Frank Kavanagh and William Ly also receiving product packs.